Ready to publish your book?
Get a personalized package at an unbeatable price!
Our services include high quality editing, proofreading, cover design, formatting, translation services. Submit Now!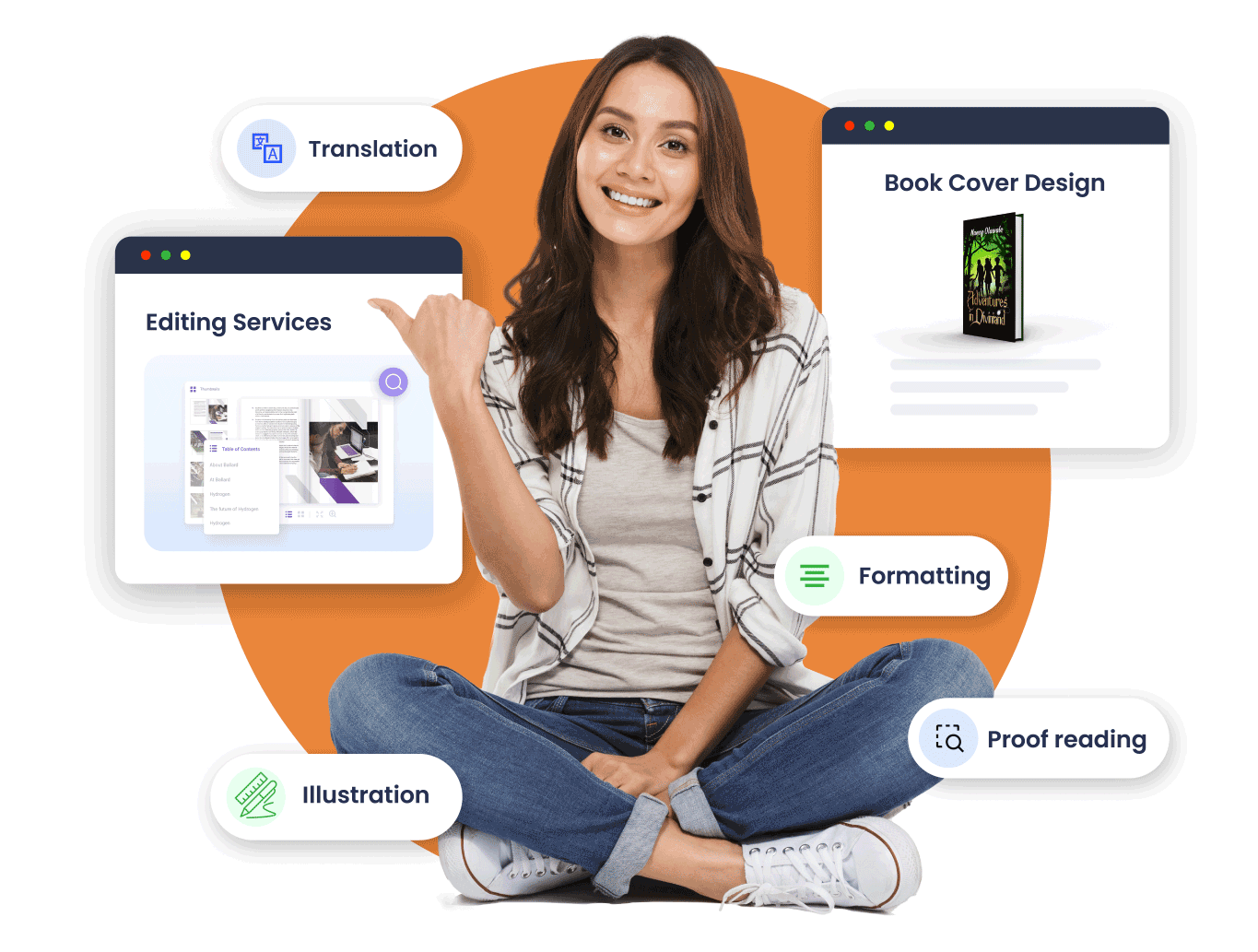 Manuscript Finalization ? Wait No More! Self-Publish Now!
Amnet has been in the self-publishing domain for over fourteen years and has closely partnered with CreateSpace for an equally long period of time. We have worked with over five hundred thousand authors to create more than three million titles containing seven hundred million pages. Creating stunning book cover designs is part of our full-service offering for authors. With our deep expertise in publishing, we are a preferred partner for authors to transform their manuscripts into market-ready books at economical prices.
Illustration
Our team of talented graphic designers employs industry-standard design applications to deliver accurate and visually appealing artwork, including line drawings, charts, graphs, digital illustrations, and maps.
Translation
Our linguistic specialists ensure that the message you want to convey does not get lost in the translation process but, instead, always carries its soul and meaning, irrespective of the language it is translated into.
What Do Authors Say about Us ?
Our authors have used our services to create print books as well as digital editions for Amazon publishing services, and they rave about our work. Here's a sampling of what they have to say about our services.
"This is my second project with AMNET and they superseded the positive experiences I had with them on my first project! The communication from the project manager, Udhaya Kumar was always professional, concise, and expedient. I highly recommend AMNET's services. I didn't rate the eBook Services only because I am not working with one at this time but I am confident those categories would have had 5 stars also. I will definitely be a return customer with future projects."
"Amnet always responded within 24 hours, if not 12 hours. They were very friendly and took my concerns seriously. Any issues they fixed right away. I would definitely go through them again, having them convert my print book into an ebook took a lot of stress away from me trying to figure it out myself!"
"From beginning to end Amnet had very professional services. All my questions and concerns were answered within a timely manner keeping down confusion and worry that goes into any book writing project. I plan on using them in the future and will be recommending them to several other authors. Great job!"
"I was very happy with their professionalism. I found their price reasonable and I appreciated that I was given a reasonable quote before I had presented my manuscript. The company was patient with me who had no idea how to download anything. Customer Service was excellent. I will use them again with future books."
"Thangadurai did an excellent job, he even sorted issues super quickly on the weekend! Twice! I was blown away at his patience to make sure everything was absolutely perfect. He really made me want to get on with another book just to work with him again! Very satisfactory, well done!"
Turn a Good Manuscript
into a Great Book
Choose the right editing partner for Line Editing,
Copy Editing, and Developmental Editing.